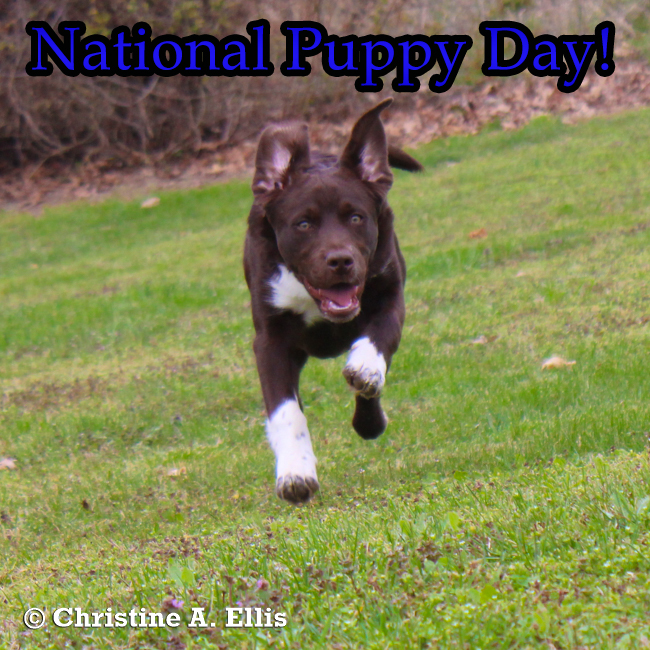 National Puppy Day – March 23, 2015
National Puppy Day – March 23, 2015
Today is National Puppy Day, a day to bring awareness about puppy mills and available, adoptable animals at shelters and rescues looking for their very own loving forever homes.
The MEGI family has seen many puppies come through our homes and families, living happily through their golden years.
Last year, we took in a stray dog in hopes of finding her owner or a new home of her very own. The weather was turning cold and we just couldn't imagine her trying to find a warm place to sleep on a vacant property.
We named her Pinky Lee and much like many dogs on our road and in our family, she just showed up outside our gate and never left. The previous property owners and neighbors have all had to deal with animals being dumped on our road for many, many years.
The dogs we didn't keep got taken to rescues and found their families. Pinky Lee should have been one of those dogs, but she came with nine puppies that entered the world just a month after we took her in.
Nine puppies, five girls and four boys that are now almost 6 months old. As we search for homes for these puppies, we want to remind you when you are looking for your furry forever family member, visit your local shelter or contact a local rescue. The most adorable little faces are there waiting for homes – even a few older 'puppies' that deserve a chance to be loved as well.
Here's a few of the Pinky Lee Nine to help celebrate National Puppy Day and let's hope that all the puppies, and older dogs, get their loving families sooner than later. ~ Christine