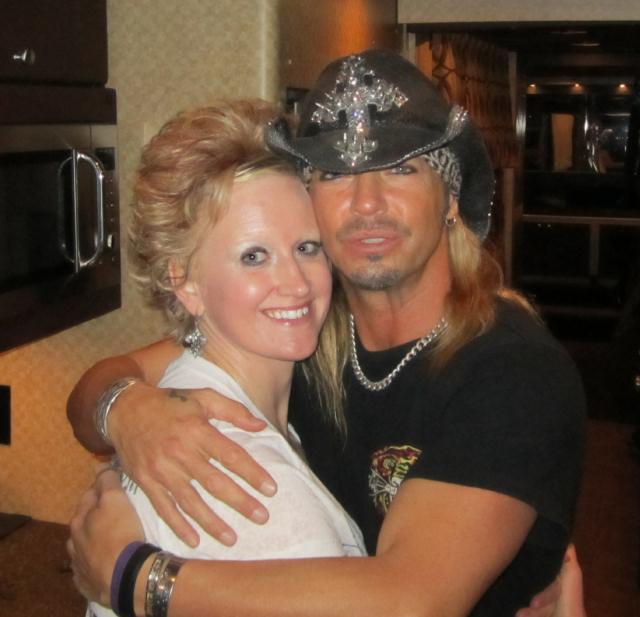 Pure Admiration
Pure Admiration
The first attached picture was taken the nite Bret and his band performed at the Wicked Moose in Rochester, MN on 12-26-11. All my co-workers surprised me ( for an early b-day February 11th ) by all chipping-in money so I could purchase a Meet and Greet with Bret that nite. I have attached the link below to view.
http://www.youtube.com/watch?v=1odNr-gBcJg
Everyone knows my Pure Admiration for Bret and how much he Inspires the Very Best in me. Bret's Determination, Drive and Adrenaline for life is a Forceful Power trip that ignites your Very Soul. Being in Bret's Heavenly presence is Breathless. Bret is the epitome of God.
The second picture attached picture was from August 2010 @ the Wisconsin State Fair, where I had my First and Greet with Bret and I was telling him about my accident which made our moments together bridge even stronger as he got goose bumps he said and he even went into details about his aneurism.
I was in a car accident leaving the Poison Concert in 2008 @ Jackpot Junction Casino where I was pinned upside down in the car and by the time they were able to cut me outta the car, I stopped breathing and had to be airlifted to North Memorial Hospital in the Twin Cities. I had suffered bruising of the brain, a split open forehead, cuts, bruises and a badly banged up body.
I completely Honor, Respect and Idolize, the infamous – Bret Michaels!
Angie Hinck