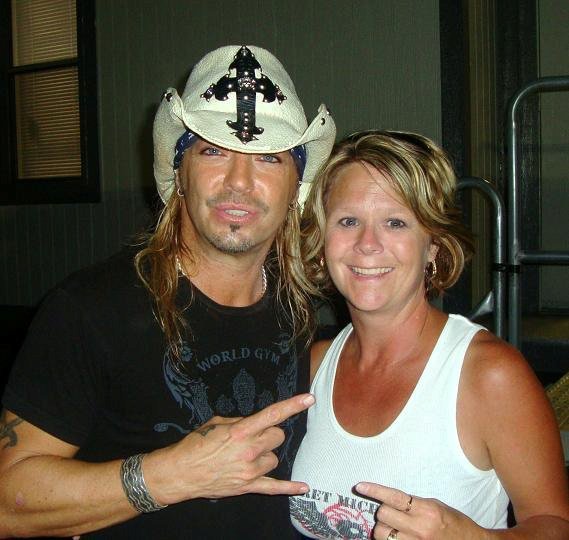 In March of 2010 I attended my first Bret Michaels concert in Green Bay Wisconsin. While I grew up in the '80s I had only recently become a huge fan of rock music and had especially become a follower of Bret Michaels, not only because of his music but his work on being an advocate for diabetics. It was an amazing show and my husband surprised me with a VIP pass for after the show! I couldn't believe that I was actually going to meet Bret and I was extremely nervous about what to say to him. While waiting for my turn we visited with Bret's band members who were so friendly and continued to work hard after the show to make the VIP experience run smoothly! When I finally had my chance to meet Bret I couldn't believe how genuine and kind he was! I told him how excited we were about his work on Celebrity Apprentice and thanked him for all of the money he was raising for Diabetes Charities. I explained to him how our 13 year old, daughter, Makena, was a type 1 diabetic and that we were so grateful for people like him that proved that anything is possible in spite of diabetes! He immediately asked me if she had ever attended diabetes camp and I said that yes she had. He explained that he would like to pay for her to go to camp! I thought that would be awesome but I didn't really think it would happen.
Well….2 weeks after that Bret had his health scare. We watched every newscast hoping and praying for the best for him. We had already purchased tickets to see him perform again in August at the Wisconsin State Fair. I was amazed that he not only recovered but was already performing again a couple of months later! My husband again spoiled me with VIP passes and I had brought my picture from the first concert to have Bret sign. I was shocked when he actually remembered me and asked if his company had sent my daughter to camp yet! I said no and he immediately called over his assistant who took my information and contacted me the very next day via email!
And here is where the story gets even better! I happen to be a teacher in a school district that has been hit very hard by the bad economy. There are several diabetic kids both there and in my daughter's school that have never had the opportunity to go to diabetes camp. So I got up the nerve to ask if Bret would consider sending some of these kids to camp. They asked how many kids I was talking about and I said 10! And he said YES!!!!! So….at the end of July…. 10 kids will be attending a fantastic diabetes camp and they are so excited!!! Things like this just don't happen in our small town!!
These kids are looking forward to an opportunity that wouldn't be possible if it weren't for the generosity of Bret Michaels! Even as I write this I can't believe that it is actually happening! Thank you to Bret and everyone that works with him! You are truly part of an amazing event and are making a difference in these kid's lives!
Dawn